Update #1
---
---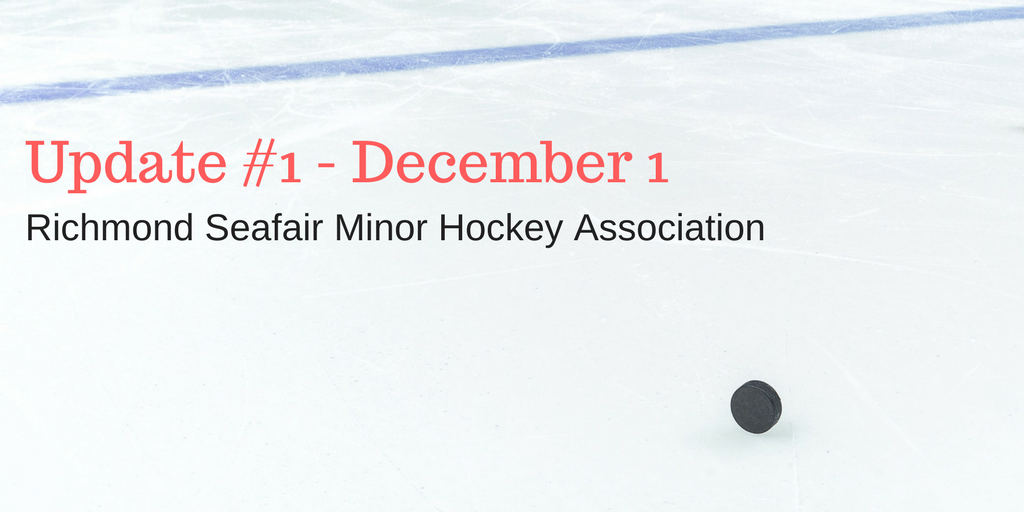 ---
Date: December 1, 2017
To: Members of Richmond Minor Hockey and Seafair Minor Hockey for the 2017-2018 Season
From: Board of Directors for the New Association ("New Board") for the 2018/2019 Season
Subject: Monthly Status Report for November, 2017
Since being given the mandate to create and build a new association by the voting results on October 29, 2017, work on the new organization has begun!
It is the intent of the New Board to update the membership at least monthly on the progress to date and the path forward. It is expected over time once we have a new web site up and running that information on the new association will be posted to that web site.
How Will We Build the New Association?
The New Board had our first meeting on November 10, 2017. We have established a weekly meeting schedule. Since that first meeting a work plan and a timetable has been developed which will us to build a program and take in registrations in late spring or early summer of 2018.
We have formed committees in many different areas such Governance, Finance/Budgets, Programming, Branding, Tournament and others. It is the intent of these committees to bring forth recommendations and budgets so the New Board can vote on these recommendations which will over time form the details of the New Association.
Work Done in November, 2017
Established a Mission Statement and principles for the New Association to guide the New Board decision making.
Produced a Programming RFI documents that will go out to Skill Providers on December 1,
Seafair Minor and Richmond Minor both transfers $30K (for a total of $60K) to help with start-up costs of the New Association.
Work to be accomplished in December, 2017
Begin and continued detail work at the committee level to bring forth action items and budgets for the New Board's approval.
How you can become involved?
We will need your help! As committees are formed and the work ramps up we will need your support and input. So if you would like to become involved in the new association please contact us at mailto:info@richmondseafairhockey.com.
Signed
The New Board (Richmond-Seafair Minor Hockey Association)